Sapevate che il ciclo de I Pirati dei Caraibi è ispirato al videogioco Monkey Island?
Negli anni 90 uscì una classifica dei protagonisti dei videogiochi più votati e al primo posto non c'era né il leggendario Super Mario, né il velocissimo Sonic o tantomeno la provocante Lara Croft.
No, c'era Guybrush Threepwood!
Cosa c'entrano i Pirati dei Caraibi e un videogioco degli anni 90 con OCCCA?
C'entra perché questo videogioco incarna in tutto e per tutto la metafora per descrivere il personaggio, il ruolo, il mestiere che più di tutti nel nostro settore sta diventando il protagonista, lo showman, l'attaccante che fa goal nella complessa brigata di OCCCA.
Il cuoco? Acqua passata.
Il cameriere?? Ma quando mai…
No signori, stiamo parlando del BARMAN.
Torniamo velocemente al videogioco.
Per chi non avesse avuto la fortuna di crescere con Monkey Island, la storia parla delle vicissitudini di un biondo aitante giovane (nei Pirati dei Caraibi ricalcato dal ruolo di Orlando Bloom/Will Turner) che desidera ardentemente diventare un pirata!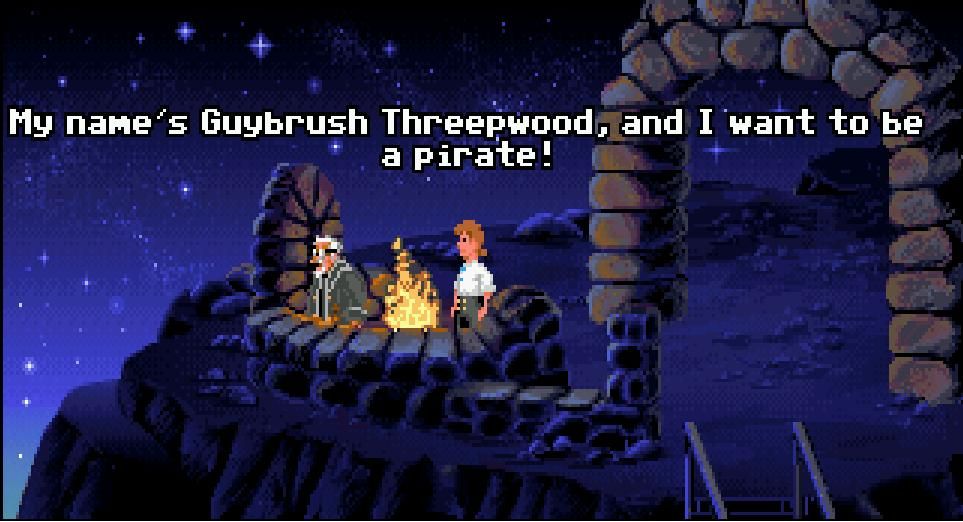 "My name is Guybrush Threepwood, and I want to be a pirate!"
Con questa categorica affermazione il gioco inizia sull'Isola di Mêlée, abitata da temibili pirati e le loro roccaforti, bettole e luoghi secreti, con tesori nascosti e pozioni magiche.
Per diventare pirata il nostro eroe dovrà superare 3 prove:
– sconfiggere in un "duello" lo spadaccino più forte dell'isola
– rubare un'idolo dalla casa della governatrice
– trovare un tesoro nascosto.
Durante queste prove Guybrush incontra Elaine e se ne innamora, ma questa viene rapita da un altro temibile pirata, Le Chuck! (Barbarossa di Pirati dei Caraibi)
Per liberarla dovrà diventare pirata a tutti gli effetti, comprando una nave e creando un proprio equipaggio. Riuscirà il nostro eroe a sconfiggere il pirata avversario e sposare la giovane Elaine?
Ok. Torniamo a noi.
Questo gioco è una metafora fantastica del barman.
Sostituite "PIRATA" con "BARMAN"
"My name is Guybrush Threepwood, and I want to be a barman!"
Per diventare barman il nostro eroe dovrà sconfiggere dopo svariati allenamenti il miglior spadaccino in un duello o competizione. Come nel videogioco, il duello o schermaglia non sarà un vero duello all'ultimo sangue, ma più all'ultima…battuta.
Se non ci credete andate nel gruppo Facebook Cocktail di Merda o Bartending Meme!
Come seconda prova, il nostro provetto barman dovrà rubare uno shaker o qualsiasi altro tool durante una guest, oppure almeno una bottiglia di distillato durante uno dei tanti eventi dedicati agli spiriti.
Infine trovare un ingrediente o tecnica segreta da utilizzare in una propria ricetta che ne consacri l'assoluta originalità.
A quel punto non gli resta che comprare la sua barca, ovvero il proprio bar, creare il suo equipaggio o brigata e salpare il mare del fine settimana dove l'alcool scorre a fiumi e orde di clienti cercano costantemente l'arrembaggio (chiedendo drink che non sono in carta o sconti all'ennesimo "shottino")
Se fino a qui è la storia di un videogioco a dare similitudini, è nel cocktail che poi troviamo il reale e storico legame tra pirati e barman.
Il GROG, nome dato anche su Monkey Island alla bevanda bevuta sull'isola, fu il primo vero cocktail, introdotto nella Royal Navy dal Vice Ammiraglio Edward Vernon ed era un miscuglio di acqua e pessimo rum. Tutto nasceva dall'esigenza di trasportare acqua in barili senza che questa marcisse e al contempo per far si che la ciurma non si inebriasse troppo con il rum puro.
Quando si scoprì che il succo degli agrumi combatteva lo scorbuto che impestava sulle navi, si passò all'aggiunta del succo di lime.
Una volta resa dolce la bevanda con lo zucchero i nostri pirati ebbero i loro primi mojiti, daiquiri e caipirine della storia!
Se volete anche voi diventare pirati come il nostro amato Guybrush Threepwood sappiate che a Roma questo lunedì e martedì ci sarà l'occasione di approdare sull'Isola di Mêlée.
Quell'Isola si trova al Palazzo dei Congressi all'Eur, dove ci sarà la prima edizione del BAR SHOW, l'evento internazionale dei Pirati…ehm BARMAN!
Noi ci saremo.
"We want to be a pirate!"
Ps: per chi volesse conoscere tutte le similitudini tra Monkey Island e la saga dei Pirati dei Caraibi, consigliamo di cliccare a questo link dove troverete tutto e di più! CLICCA QUI!